The aim of this web page is to document the projects as they progress, gather resources and compile information about the items collected.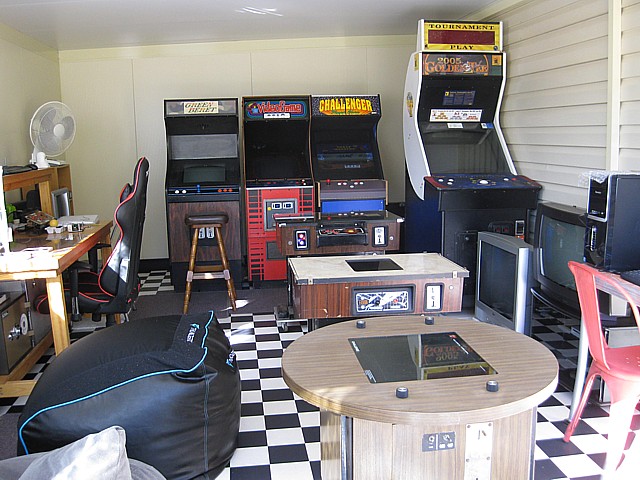 25/2/23 The Dirty Dozen...
Twelve arcade machines. Twelve months to get them all up and running. Sounds pretty simple, doesn't it?
In the five years since I started collecting old arcade machines I've made a bit of progress having repaired a number of faulty game PCBs, CRT monitor chassis and notched up a couple of complete machine repairs along the way.
But without any target date set for completing my current machine projects they had assumed a low priority. Typically acquired in 'non working' condition, most are now repaired to the point of being playable to some extent but still require many finishing touches to regard their repairs complete.
There is also at least one amongst them which has defied all attempts at repair to date and another which remains to be assessed, the extent of repairs required as yet unknown.
So to give these projects a sense of importance I've set myself a task to get them all up and running, playable and 'fully working' within the next 12 months.
I should clarify one point, I am not attempting a complete restoration of any of these machines and don't expect them to look like new or better than new when complete. I prefer to simply return them to reliable working condition, retaining original components and features wherever possible.
And what if I can't repair the original workings within the time frame, perhaps required parts are elusive or seem unobtainable? To get the machines running in a timely manner I'll consider an emulation option as an interim solution but only if possible to implement in a way which is totally reversible should original hardware become available or repairable at some later date.
Enough said, let's get on with it. I've given myself a bit of a head start in this task as the first machine which I purchased, an '80s woodgrain upright machine has already been returned to fully working condition with period correct components re-fitted.
During the next 12 months I obviously need to keep that machine running and attend to any new issues which arise but apart from that the first machine is 'good to go'. So, onto the next...
---
All images and text on this website are Copyright.
Contact: jbtech at telstra dot com
---